'FTAs have not provided sizeable market access to apparel exports'
February 14, 2020
by Sanath Nanayakkare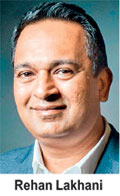 Sri Lanka's FTAs have not provided considerable market access to the apparel exports industry. Therefore, we propose to the authorities to continue the trade dialogue which was under way in 2013, Rehan Lakhani, chairman, Sri Lanka Apparel Exporters Association said at the Association's AGM on Wednesday.

"Sri Lanka is essentially a trade dependent country where imports and exports play a major role. So, the trade dialogue should be directed towards preferential arrangements with EU and the UK on a high priority basis followed by the recommencement of negotiations with China, Japan and India to penetrate those markets, Lakhany said.

"The only available GSP+, a unilateral preferential facility offered by the EU, will continue only for three more years since we have graduated to middle income country status. At the same time, we do not have the required verticality and are dependent on other sources for our raw materials. Hence, our utilization is only 47% though we could claim 98% if we could meet the country of origin rules", he added.

"We can see that the countries which are connected within major markets through preferential arrangements are having exponential growth during the last decade in apparel and textile exports: Bangladesh, Cambodia and Vietnam to name a few," he said.

Lakhany, who is giving leadership to Sri Lanka Apparel Exporters Association for the second consecutive year, further said, among other things -"The apparel industry is an industry making the largest contribution to the economy of our country by way of manufactured exports representing approximately 43% of the country's total exports. We are one of the largest employers and the most visible industry right throughout the island as our members are scattered all over. We are touching the hearts of millions of people in the country and outside and extensively contributing approximately a massive sum of Rs. 294 bn to the reduction of poverty and for the prosperity of the regional economy of our country.

"Our industry has set itself a target of reaching US$ 8bn export turnover in 2025.

"E-commerce is disrupting the traditional market practices and is achieving double digit growth. Buyers are now demanding goods to be supplied from nominated sources where preferences are available when country of origin rules are met. On the other hand, the consumers are continuously seeking the transparency and traceability ensuring that the planet that we are living in is protected at all points of the supply chain.

"Offshore management of total supply solutions in collaboration with regional producers and also engaging in international sub-contracting mechanisms would be key. Thus Sri Lankan exporters will be able to create new flow of export earnings which could reach approximately an additional US $ 300 mn from our sector alone.

"Such offshore activities will play a major role in creating new businesses where Sri Lanka could manage large orders and utilise both local and external capacities by engaging in order management, supply management, quality management, etc., both within Sri Lanka and outside. All export proceeds will be brought to the country because of the friendly tax regime that was prevalent. 'We earnestly request that this relatively new model of business be encouraged by the government by revisiting the prevailing tax provisions which was introduced about three years ago based on IMF tax templates.

"The industry in collaboration with the BOI has identified a dedicated textile manufacturing zone to be set up in Eravur in a land of extent of 200 acres. The industry is of the view that if the completion of the project could be done in one year, we could guarantee a minimum of three projects to be established. Simultaneous allocation of land to the prospective investor while the infrastructure is being developed by the government is a mechanism that we expect from the government and request that the government takes immediate action and give this project their full attention.

"Growing incidents of B2C transactions are clearly visible in that large numbers of companies engaged in such e-commerce have shown remarkable progress where the traditional retail shop concept would be of minimal value in time to come. The major issue that we are facing today is the absence of a mechanism to receive payments online from the consumer if we are engaging in e-commerce in the proper sense. This perhaps is the stepping stone for our own brand journey. In view of the growing demand and the need to facilitate transactions of this nature, it will be necessary for the government of Sri Lanka to take required action to create a mechanism similar to PayPal enabling us to receive payments online.

"The establishment of the Directorate to monitor BOI enterprises under the Department of Customs has created serious complications in doing our business. We find that new directions are coming from this Directorate creating more difficulties. This matter needs to be sorted out with the Treasury as a priority item".

S R Attygalle, Secretary, Ministry of Finance and Treasury and guest of honour Sarah Hulton, British High Commissioner to Sri Lanka, also spoke at the event.